About Us
The Clear Sky team have been working in the travel industry for over 20 years, working with some of the biggest names in the holiday and 'glamping' industry. Company Director, Mark Scott, also runs his own safari tent letting business based on his farm in Kent.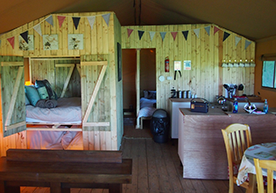 Four years ago, Mark started to look at capitalising on the growing trend towards glamping, but having looked for a good supplier in the UK, he found the costs, delivery times and flexibility on offer was far from ideal. Extensive research (and many trips to Holland and Germany!) found that by bringing together the very best manufacturers in Europe, the highest quality tents could be offered at prices and delivery times much preferable to what is available in the UK without compromising quality - and so Clear Sky Safari Tents was born!
We know what setting up a safari tent business involves, we know about putting them up, we know about furnishing safari tents and letting them out - because we do it ourselves! So let us help you start your own safari tent business.
We can help you with:
Interior layout and design
Consultancy to help build the business
Marketing advice and consultancy
Quick replacement in the event of damage or loss of your tent
Full on site Repair service for tears and rips
Cleaning, dismount and storage at the end of each season