- Planning Advice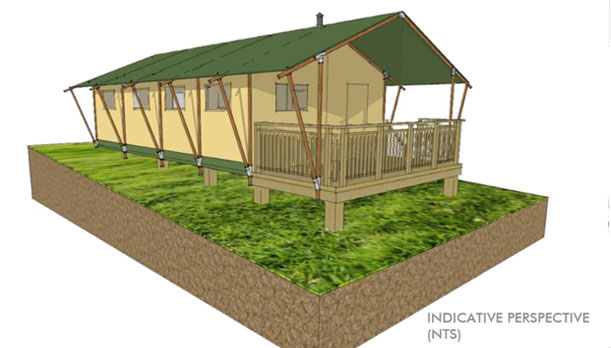 Planning is often the stumbling block for Glamping projects, and some authorities are a little more accommodating than others. You will need planning to put the tents up as well as change of use for the land if its agricultural.

Here are some things to consider:

1. Colour -: Some planners dislike the standard camel colour as it is more visible in the countryside. If this does come up then you can suggest you use dark green canvas which is a lot less visible.

2. Permanency - : The tents are considered to be a semi-permanent development. You can lessen the impact of the development by not using concrete sub bases. The tent bases don't need a concrete sub base as the decking can be installed using just simple legs. Further more, you may consider taking them down during the winter, but only if this helps with the planning application.

3. Neighbours -: Most planning applications are beset with objections from neighbours. It may be worth you talking to anyone who is likely to be affected to reduce this as an issue.

4. Need - : This has become a favourite over the last 6-9 months. You may be asked about the need for such a new development. This can be need for the farm to diversify in order for it to remain viable, or local need for more accommodation to complement local attractions, pubs, restaurants etc. This can be countered if you have any historical data from similar sites.

5. Bathrooms and Toilet facility -: The planners look to this as a way of telling if there is any chance of residential use being established. You should try and infer that you will be using eco toilets and grey water will be into a soak away. You don't need planning permission or a licence for a septic tank or Treatment plant, so you don't need to be too specific about this at the beginning of your application.
I am sure there will be other questions. The rule is to tell the planners no more than they need to know. Good luck, but if you would like one of the Clear Sky Team to come down and walk the site and provide any further information, do get in touch. We are currently offering a free consultancy site visit which we would normally charge £450 for, so don't hesitate to take advantage of this service.