Design
Website
Getting the most out of your online brochure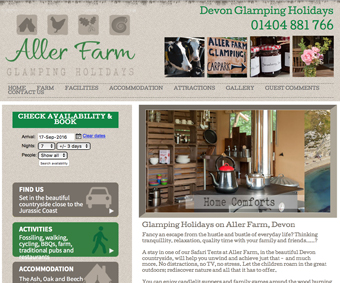 Your website has the potential to be the most powerful marketing tool for your glamping business. We'll work closely with you to create a professional web presence, which will convey quality and authority in your field, and help you to reach your marketing goals.
Our website functionality include;
• Online reservations and availability for multiple Tents
• First-hand knowledge of the Glamping Industry
• Local attractions
• The arrangement of quality photography that sells your glamping USPs
• Social Media advise for your digital marketing strategies
• CMS System available for News Feeds and Picture Gallery
• Multiple location landing pages covering a 15 mile radius of your area
Online Booking System
You can login into the booking system anytime to see your bookings at a glance, add phone bookings, view your diary, check bookings, email customers, change prices, close dates and much much more.
• Secure Online Booking for your website
• Diary to manage your bookings, easy to open and close dates
• Email/Text notification of bookings instantly
• Customer reviews, you choose which reviews to publish
• Your telephone number and email displayed to customer as they book
• Add Telephone bookings and email confirmation
• No setup fees
• Commission free

Guest Reviews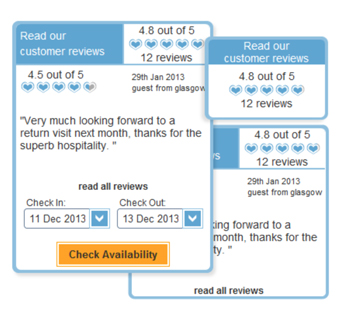 It's great to get fantastic reviews! You've worked hard to get your fabulous feedback, now you can use it to influence future guests.
Autmomatically post your guest reviews onto;
• Your website
• Facebook
• Twitter
With your online reviews widget you can respond to your customer reviews.
Getting your reviews out there and read by potential guests helps reinforce your key message - "book now and stay with us!"




Photo Gallery
The colours, graphics and imagery of your website is what creates the visual impact of your website upon your guest. You want to convey quality, and a clear message what your glamping business offers.
We will help you build a storyboard when you commission a local photographer to take the best possible photos of your glamping facilities and accommodation. Every Glamping site is unique, so every storyboard is different highlighting the business USPs.
• Site facilities
• Outdoor Recreation Activities
• External Tent Shots
• Internal Tent Shots
• Local Attractions