Optimisation
SEO & Social
Get noticed & stand out from the crowd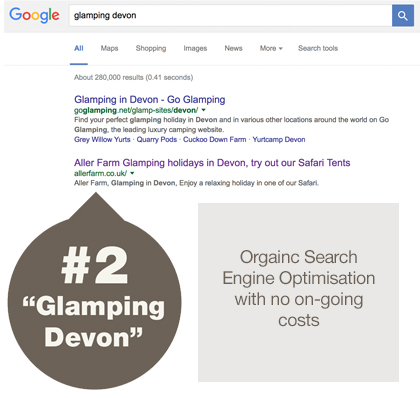 Search Engine Optimisation (SEO) is one of the most powerful tools available to draw more potential guests to your website. It is also one of the most cost effective, offering excellent returns on your investment.
After building Aller Farm's website and handling their SEO for a number of months, we managed to achieve a page one ranking, position two on Google under the keyword search term "Glamping Devon". This is any advertiser's dream!
Your site is the portal to the Glamping world, designed to promote your business, and it needs to be designed to allow to be recognised. Enhanced visibility created by an effective website SEO campaign will build your brand identity, making you more recogniseable to your potential guest. We've developed valuable PHP code that enhances the areas you wish to cover, typically within a 15 mile radius from your Glamping site.
A successful online marketing and promotional campaign hinges on the power of SEO, ensuring the best search engine ranking for you, and allowing your guests to find you. Implementing key SEO principles will increase and enhance profile and profits for your Glamping business. This will then generate maximum traffic and targeted, relevant guests to your website, and deliver the results you want for your business.
We will help you set up the most efficient website SEO for you, by helping you to choose the keywords best suited for your business, and helping you create keyword rich content for your website. We will place keywords in relevant positions on page titles, headings, links, and in adherence to the guidelines of major search engines including Google's Webmaster Guidelines. We will ensure that all pages of your website are linked correctly and have appropriate meta and link tags as well as providing optimal keyword density as is appropriate and required in order to generate the highest ranking and increased traffic for your website.
Conversion has to be an essential element of your SEO campaign, and we will help to create a strategy through the "News" feed functionality which creates great traction with search engines. To get real results from your SEO campaign, we will consult with you to create a strategy which may employ online offers, discounted offers, calls to action, and other techniques.
We will track important statistical data via Google for you, including number of unique and return visitors, their source, and other relevant information. You will have direct access to this information, allowing you to see the progress of your SEO campaign as well as answering any questions you may have.